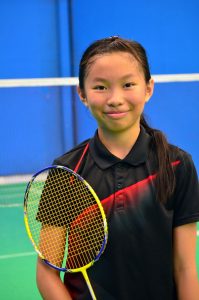 Registration is now OPEN for the 2018/19 season. You may register your child by clicking on the Register button below. Please read all information carefully as the program has changed.
The Youth Program is one of the most popular badminton youth programs in Southwestern Ontario. Beginner, intermediate and advanced athletes come from great distances or locally to train at our facility. Located in Woodstock, Ontario the Woodstock Badminton Club (WBC) has been a vibrant piece of the Woodstock community for over 100 years and has a proud history of developing national champions and Olympians. There is something for everyone though and whether you want to learn some new skills or if you want to train and compete at regional, provincial or national levels, there is a spot for you at the WBC!
Ages: 5 to 18
We are introducing a new format, new coaching staff, new shuttles and an automatic shuttle feeding machine that has been purchased specifically for the Youth Program by the club. We will also be exploring tournament options for athletes of all skill levels.
The Youth Program offers three options for athletes from beginner to elite to develop their badminton skills: The Skills Development Program, the High Performance Program and Private Lessons (contact Club Pro, Sajjad Malik directly).
The WBC defines "youth" as between the ages of 5 and 18 and we realize that athletes may have various skill levels at different ages. For instance, a beginner 15 year old just joining the program may need to spend a few weeks with younger athletes with the same skill set but they typically will advance faster once they learn these basic skills. Similarly, there may be a 7 or 8 year old that should be "playing up" with a 10 or 11 year old group if their skill is at that level. Skill and also maturity determine where athletes will be placed which is at the discretion of the coaches upon evaluation and consultation with parents. These evaluations will take place at the first lesson block and athletes will be assigned a court with a coaching staff that will develop the athlete according to their skill level. In some cases, coaches may indicate the athlete would benefit from a few private lessons if they want to "catch up" to athletes their own age. This is not a requirement however.
Cost
1. Every athlete that joins as a Youth Member must purchase a Youth Membership. It is good for one year and entitles the athlete to play at the club during regular scheduled programming. If the parents have purchased a family membership then the youth is already a member. The cost for the 2018/19 season is $100 for a Youth Membership.
2. The Youth Membership DOES NOT entitle the athlete to lessons – these must be purchased separately in blocks ONLINE to be part of the Youth Program. There are six (6) blocks in the Skills Development program and youth members may purchase multiple blocks at the time of registration. Prices for each block are $60 for each 3-month block and $30 for each 2-month block. More information can be found on the Skills Development program page. Shuttles are provided for the Skills Development program.
3. The High Performance (HP) program must also be purchased separately in six (6) week blocks. There are several blocks to choose from and more information can be found on the High Performance program page. Each six (6) week block is $74 which equates to $12.33/week. Athletes are responsible for supplying their own shuttles for the High Performance program.