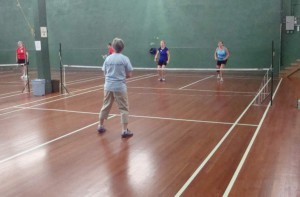 A Woodstock Hall Rental is available at the Badminton Club for members and non-members and is affordable for all. The club is located conveniently close to the downtown at 310 Hunter St. in Woodstock and is ideal for holiday gatherings, family events and more. While there, hall renters can utilize the facility and play some racket sports such as badminton and pickle ball. A main floor wheelchair accessible washroom is available as are a mens and ladies change room with shower facilities.
Rates
Members $ 100 flat fee
Non-members $ 60 / hr (min of 2 hrs) $300 max – 30% deposit required at time of booking
Woodstock Hall Rental Amenities
access to playing courts for badminton and pickleball
kitchen with fridge, hot plate, dishes & cutlery (note: no oven)
tables, chairs, couches
wheelchair accessible washroom
ladies change room with shower
mens change room with shower
TV with cable
To book the WBC for your event please contact the House Director on our Contact page and download and return to the club the rental agreement.