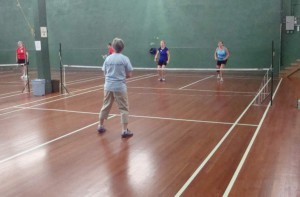 A Woodstock Hall Rental is available at the Badminton Club for members and non-members and is affordable for all. The club is located conveniently close to the downtown at 310 Hunter St. in Woodstock and is ideal for holiday gatherings, family events and more. While there, hall renters can utilize the facility and play racket sports such as badminton and pickleball.
Proof of liability insurance is required in order to rent the facility.
Rates
Members $ 150 flat fee
Non-members $100 / hr (minimum of 2 hrs) $500 max – 25% deposit required at time of booking
Woodstock Hall Amenities
access to playing courts badminton and pickleball
kitchen with fridge, dishes & cutlery (note: no oven)
tables, chairs, couches
wheelchair accessible washroom
ladies change room with shower
mens change room with shower
TV with cable
Pictures of the facility can be viewed on Our Facility web page.
Things You Should Know
Your guest using the court facilities must wear indoors only non-marking court shoes. This is for your safety and the protection of the court floors.
No food or drinks are allowed on the courts.
Safety eye-wear is recommended when playing badminton and pickleball.
If Liquor is being served/sold , the renter must obtain the appropriate liquor permit from the Alcohol and Gaming Commission of Ontario (AGCO). The permit must be prominently displayed on the club premises at the time of the alcohol event. Any other regulations stipulated by the AGCO, for the event permit, must be strictly adhered to.
Proof of Party Alcohol Liability (PAL) insurance is also required.
Proof of liability insurance for participants in your event at our club.
To Book
To book the WBC hall for your event please message the House Director via the form below. Please state the date, start time and duration of the requested rental and your phone number.
The House Director will let you know if the hall is available and if not available can discuss alternate possibilities.
Prior to renting the facility you will need to download and complete the WBC Club Rental Policy and Rental Form that can be downloaded below.
The rental agreement / waiver and deposit will then be returned to the club.
Rental Request Inquiry Form