Here is an interview on Rogers TV Oxford County Living with Kevin Cougler, Youth Director, hosted by Shayla Wolff.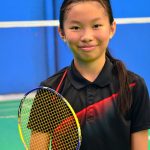 The annual Bill Parkes High School Tournament is almost upon us again. Mark your calendar dates of March 24 to 26.
As in previous years, Friday is mixed doubles with Saturday singles and Sunday finishing with doubles. We are anticipating a big turnout again this year. Download a copy of the registration form here.
We have received a shipment of shoes (SHA501) and most sizes should be available. These are mid level badminton court shoes at a very reasonable price. Perfect for the average recreational player who does not want to spend upwards of $200 for a pair of high end court shoes. What's better yet is Read more