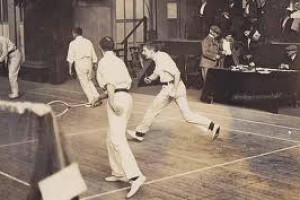 History
The Woodstock Badminton Club (WBC) was the first recreational club in Woodstock established in the early 1900's. It has a long history of fun, fitness and building friendships that last a lifetime. Originally a private club, the WBC converted to a Non-Profit Corporation in the 1970's to help expand its membership base, promote the sport of badminton and provide access to the community of Woodstock and, by extension, Oxford County.
View "History of the Woodstock Badminton Club" by Carl Chambers.
Today
The Woodstock Badminton Club, situated on the corner of Hunter and Delatre Streets in Woodstock, Ontario, is a fully equipped badminton facility. We have four regulation size courts with excellent lighting and a viewing area. We also have a lounge and a concession booth and provide change room facilities with showers and lockers. The facility also offers free WiFi.
The Woodstock Badminton Club has a long history of providing fun, family-oriented social events for its members that take place all year round.
Our junior program is growing stronger each year. The aim of the program is to stimulate health, fitness and an understanding of the sport of badminton. Excellent coaching is also available to our youth members.
Whether you are young, or young at heart, badminton and the Woodstock Badminton Club can help you achieve physical fitness at both the recreational and competitive levels.
The objective of the club is to encourage and promote the playing of badminton and pickleball in all its aspects, to provide opportunities for social activities for members and friends, to introduce young people to the sport of badminton, and to provide opportunities for senior citizens to play the sport of badminton.
We also LOVE Pickleball! The Woodstock Badminton Club is happy to offer the game of Pickleball on our indoor courts several times a week. See the Schedule page for times. Check out the link for Pickleball at www.woodstockpickleball.ca