Tournaments & Other WBC News
3rd Annual Pickleball & Pies Tournament!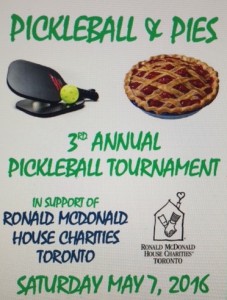 The Woodstock Badminton Club is pleased to announce the upcoming 3rd Annual Pickleball & Pies Tournament! This event has proven to be super fun and best of all, we raise funds in support of Ronald McDonald House Charities Toronto. Space is limited so register today! Click here for Registration Form. This event takes place on Saturday May 7th, 2016 at the WBC. View flyer here!
Annual Leamington Spring Doubles Tournament
Looking for more tournament play? The Leamington Badminton will be hosting their "Annual Leamington Spring Doubles Tournament" the weekend of April 9 & 10. For more information regarding this event, please click here. 
WBC: Proper footwear is a MUST!
With every sport there is a need for proper equipment in order to keep participants safe and free from injury. The WBC would like to inform all members and visitors of the need for proper indoor court shoes. You will now find this poster hanging in the club. *court shoes are available for purchase from the WBC pro shop at a very reasonable price.
Indoor Court Shoes Only On The Courts
Indoor court shoes MUST be non-marking and include shoes designed for badminton, squash, volleyball, indoor tennis and indoor soccer.
Shoes specifically designed for Badminton, Squash or Volleyball are highly recommended.
Inappropriate footwear includes but is not limited to the following:
All outdoor footwear
Hiking shoes
Running/jogging shoes
Cross trainers and walking shoes
These types of shoes do not have the proper support needed for movement on the courts and can result in injury.
Thank you
Board of Directors, WBC